It's time for Fall patterns
The new Fall interweave has come out and even though I am reading lots and lots of negative reviews for it I have a few patterns that I like or I have labeled as maybe. I kinda feel like if a magazine has two or more good patterns and at least a few good articlea it's worth the purchase. Now that you can easily spend $7 on one pattern, paying $6.99 for a magazine seems ok to me.
So here are my thought and opinions on just a few of the patterns in here.
First off is Teva Durhams pea coat in red. I love the stitch pattern , the texture and yes the color. Funny because I showed it to my husband and he said ' that's cool but maybe not that color". I love that color!! It's not something I wear alot of but I want it in that color.
I thought it about it over and over and decided I liked it enough to make it , so the yarn is on order and yes it will be red.
This one is called the backstage tweed jacket and it's by a designer I'm not familiar with. At first glance I really liked it but then the gapping on the front started to really stand out for me. I also don't know about the way thoes shoulders are hitting her. It's too big for her but is thatand the gapping the only problem? So ,this is a maybe but probably not.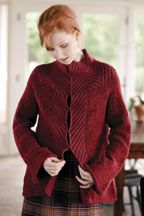 I like this one but I seem to be the only person I know who likes it. It's called tweedy waistcoat and it's a Deborah Newton pattern. It's made with Rowan scottish tweed Dk. Not a soft yarn but I think I have some of that yarn already in a soft blue color. I would need to find a color to go with it. I would also want to add a button closure or toggle or something. So this one is a maybe.
I love this one. It's called the estes vest but I have renamed it the bluberry cable vest. I am using Malibrigo chunky in blue that I bought for something else but changed my mind on.
I wish it were done in one piece but it's in pieces and I don't feel like rewritting the pattern to make it one piece. So when I finish the green vogue sweater this is next.
I even did a swatch. I even did the swatch in pattern. You can't really see it in the photo but it's a fun pattern.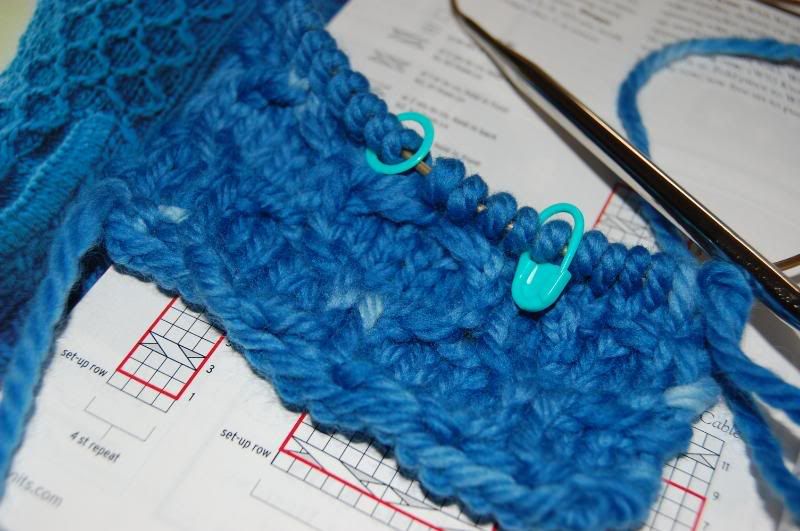 So I got myself all excited about the vest and the red sweater and then this came in the mail. I haven't opened it yet. What if it's full of great patterns ? What if it sucks? It's too much pressure for me today. I'll sit it aside for now. Or maybe I'll just flip through the pages super quick. No, Ill wait.
Today was a rough day, so Gin and I went on an adventure. We had pizza for lunch, I was really happy that the man of the house was able to meet us there. We had a good time and the food was great.
Then we went to the not so local yarn shop and I don't know, maybe it's the yarn fumes, maybe it was Gin saying oooooo, these are cool but I bought not only a sock book but......
Sock yarn. Lorna laces jungle stripe. I'll have to post a picture of the socks because you really have to see them. The pattern is called Monterey, named for a california town not too too far from here. Anyway Gin talked me into this yarn to make that pattern. I said ...ok but what are you going to do with only one sock?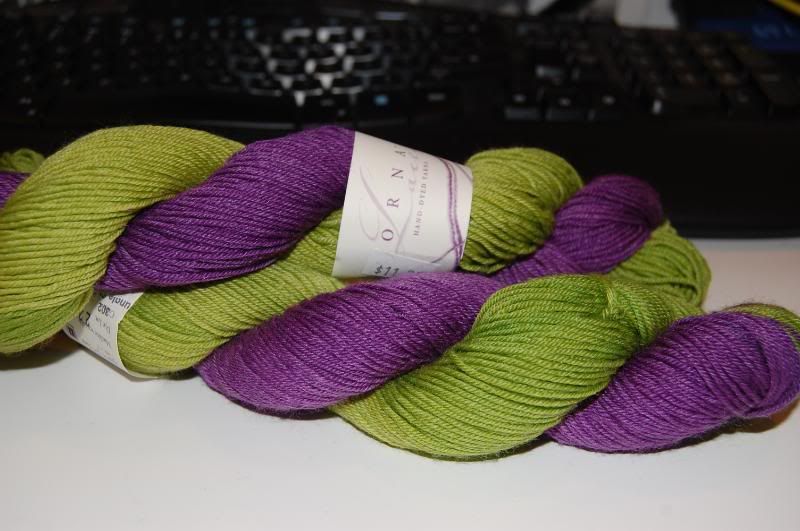 She also talked me into a hat and fingerless gloves in this Crayola red color. The hat we had already talked about and the gloves will probably be like the elysians I made for the olympics because she loves mine.