Ravelympic projects
That can not be a comfortable position. Have you ever tried to sleep like that? He has all his limbs curled under him. It makes my muscles hurt just looking at him. Poor guy, he had a fox tail in his tail and I didn't get it all out, and didn't know I didn't get it all out untill it got infected and icky and nasty. So he has a little bald spot on his tail where we cut the fur off to get him fixed up. It's healing fine and he's happy again.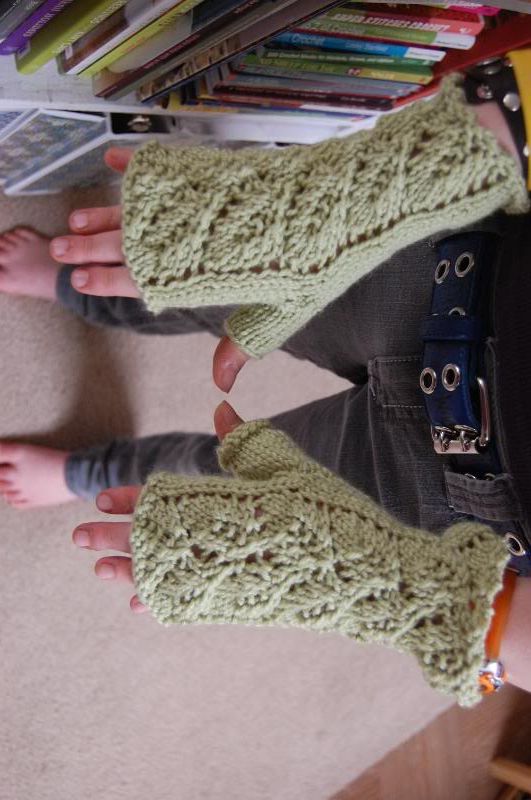 In Ravelympics news: I finished one project. It was a very fast knit, just a few hours for each glove. I used Debbie bliss cashmerino aran weight. I've used this yarn for several other projects and I really like it. Thanks to Gin for modeling them.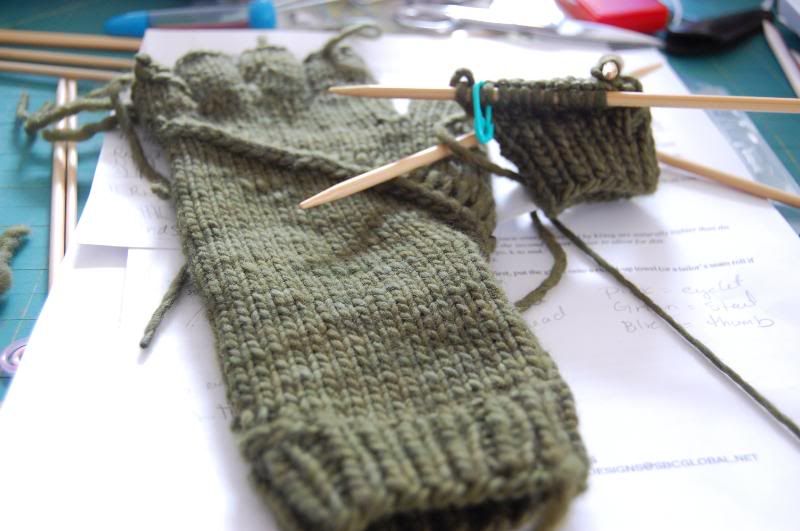 This is the helix glove pattern. I have one done except for weaving in the ends. I actually made a whole other glove using a rowan yarn.....wool cotton I think. The gauge was all wrong. I don't know what I was reading or thinking or what? But I made some strange comprehension errors. I'm sure it didn't have anything to do with it being 1 in the morning when I started them. I was watching the olympics. Anyway this is project #2 and they go fast ,but I'm seriously tired of knitting them.
Project #3 was a peer presure pick. My good friend has turned into a tawashi fanatic and has started checking out all things tawashie so I had to join in the fun. I made these two fishy Tawashi in about an hour. The red one is actually two fish sewn together but the blue one is just one. I think I like the two layers better so I'll probably make another blue one and sew then togther too. They don't have eyes. I don't really feel the need to make the eyes but I might do it anyway.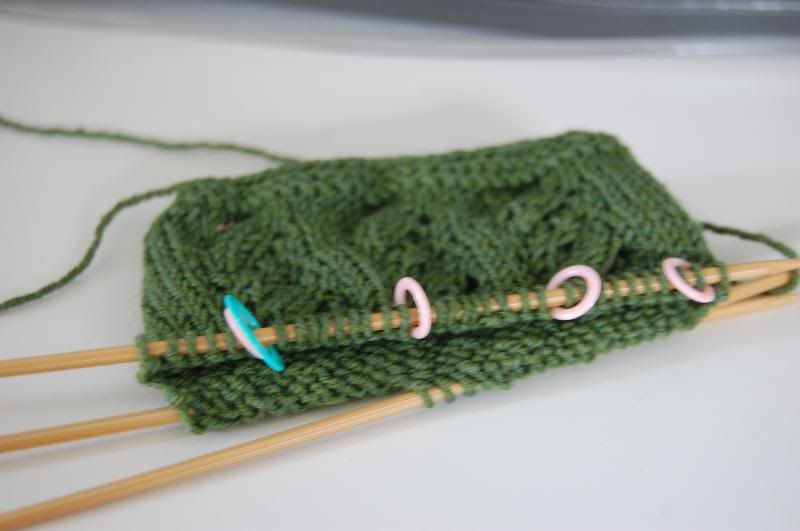 Progect #4 yes another green project. This is a flippant, it's a flip flop socklette thingy. It's on size 2 needles and may never get done. I worked on this at knit group and this is as far as I got. Now I will admit I did help other people with projects and I did stop to eat so maybe this is good progress on size 2 needles, but dang!! What was I thinking?
I'm pretty much over the thrill of all these projects and would really rather go back to knitting my sweater from the fall Vogue mag. It's also green. Here is the sleeve started.
Hmmmmm, the whisper cuff cardigan that I finished last month was also green maybe I should pick another color for my next project. Anything but green. Maybe a nice blue.
But for now there will be no talk of new projects. I will finish these four things ( well maybe not the flippant thingies) then I will finish the vogue sweater and then walk in the woods. Then we can talk about new projects.