Custom knits, Love it.
So I got an email from the "yarn place" letting me know that the yarn I ordered for the pea coat is on backorder for " about" three weeks. So I decided to look for a new must knit next project and of course I had this brand new book just waiting to be checked out. It even has the new book smell. So here is my review on my new favorite book.
Custom knits by Wendy Bernard of knit and tonic.
First of all it's a nice size book, hard back 168 pages. The paper is a nice thick quality and the pictures are really pretty. The layout is nice with a big full page picture facing the page featuring the important info. At a quick count there are about 25 patterns. Mostly sweaters with I think 1 scarf, 1 shawl/wrap and two hats. The really cool thing about the patterns is that each one has a "make it your own" section. In this section wendy gives Ideas to change the pattern to fit you. Many of the patterns are shown in more then one color or style. Another wonderful and I mean wonderful thing is that these sweaters are made out of yarns that are easily available.
These are not great pictures I know but I wanted you to be able to see some of the designs. If your on Ravlry just type in either custom knits or wendy Bernard and you can see the photos much better.
This was the first one that I really liked in the book. It's called Ingenue and its made with Karabella Marble on size 8's. It's a simple little pullover sweater with a wide neck and a neat little lace stich around the cuffs, neck and waist. I think it would be a easy to wear comfy throw on sweater. It like most of the sweaters in here , is a top down in the round knit.
This one is in my favorite MALIBRIGO!! (ohh and if only Heather hadn't taken back all that georgous malibrigo she had this would be great) I thought this one was also a nice simple classic easy to wear pullover sweater. Nothing crazy just plain ole sweater but I like it and would wear it. Like I said Malibrigo worsted yarn on a size 7 and 8. This one has set in sleeves, top down in the round boby.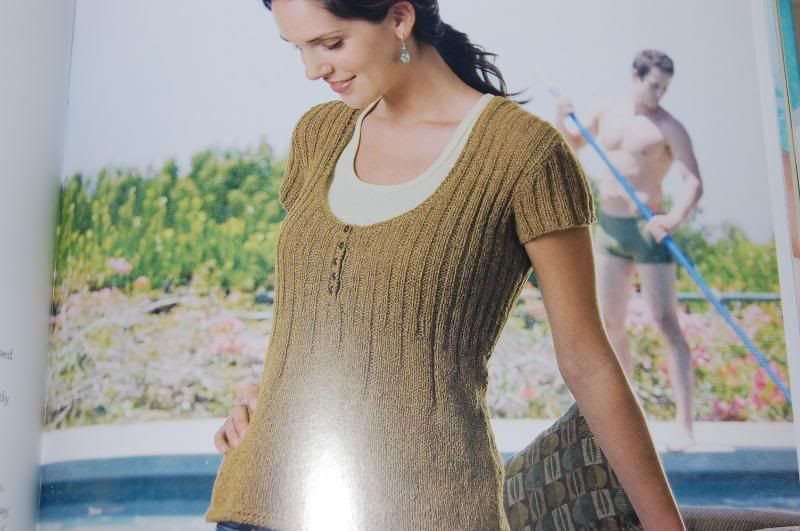 I wish I had a better photo of this because it's really pretty. It's called slinky Ribs. I love the scoop neck and the rib detail on the bust. Cute little short sleeves. This is Elsbeth Lavold silky wool on a size 6 and a 4. I made Gin a pair of knuck out of this yarn otherwise I would have had enough to make this sweater. This one features short row shaping and top down in the round.
Lettuce coat. This yarn should look familiar if you read my blog. I used it to make my whisper cuff cardigan. This is the worsted version rather then the chunky but basically same yarn same color. This has a rib that starts at the waist and runs all the ray down the coat. It's knit on a size 9 so even though it's a coat it would be a fast knit. The sleeves are super cute with the rib and the little buttons. I would totally make this.
This is my FAVORUTE!! Funny it's called the favorite cardigan and no it doesn't have to be worn off the shoulder in fact I think I read that the model did that and it wasn't knit that way.
This one is a cabled cardiagn. ( love cables) It's made with Artyarns supermerino on a 7. I think it's dark brown. It has a fairly wide rib on the bottom and the sleevs have the same cable as the body. It might be too short as written but the joy of top down is you get to keep trying it on as you knit it. So I think this might be next.
There are some other really cute pattern as well like you know how you have always wanted the perfect vest to wear over you button down shirt while your sitting on the counter in your underwear eating cereal? Well your in luck because there is one in the book. I also like a sweater called Jane but I it's got that "your sweater is too small" look to it.
So I haven't knit anything yet so I can't comment on how well the directions are written but it does have schematics for each pattern. I do wish that it gave the size of the garment shown in the picture as well as an alternate yarn info for example any wortsed weight yarn with a gauge of..... whatever. But not many books do this so, It's not a complant just a comment.
I like the book, I think it's a good purchase. It has a recommended price of 27.50 but I bought it from amazon for 18.15. It is a hardback and it's a nice quality book.


In knitting news. I started a hat for Gin. She wants the devil hat. It's a pain but going pretty fast. Today I said
" hey Gin this seems kinda...I don't know small, maybe ,do you suppose you could try to....well try it on...?
( GIn) Sure...ummmm how?
( Me) well I guess that's what it's suppose to look like.
(Gin) Your not going to take a picture are you?
(Me) what a great idea.
Poor poor Gin