Tunisian crochet finally
You know how sometimes you can try and try to figure something out and it just doesn't click in your brain. That how it has been with Tunisian crochet. I first started looking at how to do it when I saw some patterns on the
Stitch Diva
website. This
pattern
in particular caught me attention. I always end up with these odd balls of yarn and I thought this would be a fun way to use them up. So I headed out to the local shops in search of the Tunisian hook, wich turned out to be very hard to find. I wasn't able to find the super huge one I needed for the blanket but I did get a # 1o Susan bates needle to practise with. This was months ago, I could not figure out how to get past the first part. I put it aside and this weekend I pulled it out again. I was inspired to try again after seeing a sweater in the new
Crocht me
book that uses this teqhnique. I don't know why but for some reason when I sat down to figure it out this time it made perfect since and seemed easy. I started out with that little hook I had originally bought and some plain worsted weight yarn. Here is what you get.
Then it was ime to pull out the huge hook that I had ordered from Stitch Divas after not being able to find one locally. This is a size "s" and lion brand wool ease thick and quick. I am getting about 2 stitches to the inch.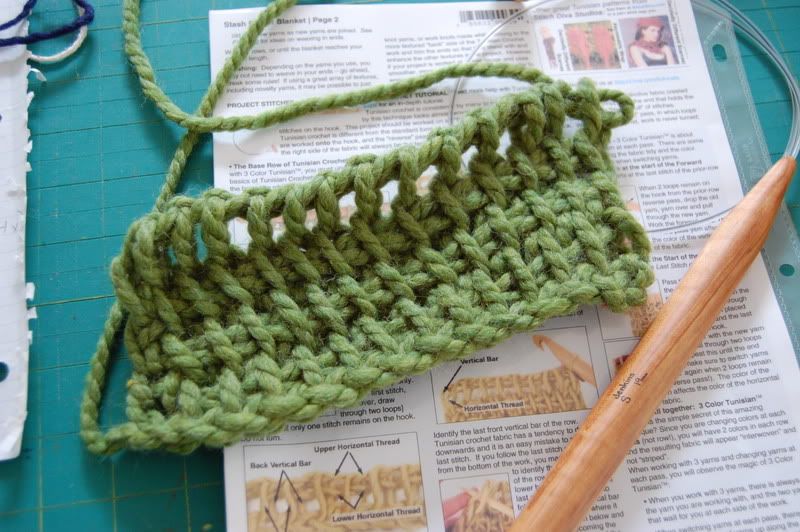 Then I decided to try the stash blanket pattern, which has you switch yarns on each row. This is three colors of the lion brand. In the pattern you hold multiple yarns together to make up each strand of yarn butI thought it would be easier to just start out with bulky yarn. I had this yarn in my stash so I am going to see how far I can get using it. If it turns out ok .I will give it as a gift. It's very cozy but has a nice drape to it. You would think it would be heavy and dense but its actually very open, not lacy obviously but just enough open space to give it a great feel.