looking for the prfect cardigan
New patterns: looking for the perfect cardigan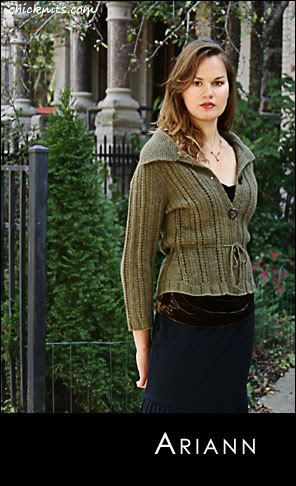 This one is from Chic knits: they have some great patterns go check them out if you haven't
These two are the same pattern but with sleeve variations from Stitch Divas.
I finished the body of my puffed sleeve cardigan and now I need to pick up the stitches for the button band. Problem is I kinda forgot there was going to be a button band when I was trying it on during the construction. So its gonna be too big. I also didn't realize the lace peplum was so long so it's longer then it should be as well. I made the 36 because I have a 35 14 inch bust but clearly I should have made the smaller size. I always pick the wrong size thinking I'm bigger then I am. There other problem I have is that my waist is really small compared to my bust so I should have done more fitting and made the waist much much smaller. I will finish this as soon as I figure out how to do the button bands or maybe I should just do sometype of edging on it instead. Then I am going to throw it inthe wash and hope to shrink it up a bit.
here are the site links for the above patterns

I'm thinking about trying the Elizabeth Bennet cabled cardigan from fitted knits but in the smallest size. It's almost the same as the puffed sleeve cardigan but with a few changes.
I also started working on a scarf for a swap I'm in. I chaged my mind 4 times but now I think I'm happy. I hope my partner will like it.