Trying to get caught up
I have survivied!! Summer School is over. Hopefully I taught my studens some fun and interesting things this summer. Now I can go back to working one job, knitting, sewing, crocheting, reading and stuff. So lets see here are a few super quick photos.
Here is my puffed sleeve cardigan from fitted knits. I'm sure now it will zoom by. It's a fast knit I just haven't had time to knitit. I haven't run into any trouble or questions. I haven't tried it on yet, I think I'll wait untill a get the sleeves separated.
This package came this week from KPIXIE. I was going to use them together but I realyy REALLY don't like that red in there with the others. I guess I'll order another color to go with them. Yes, I am thinking about making a striped fitted tank. I would like to change the neck finishing on this tank and I really wish it were in the round.
My Swap package from the crochet goodie swap THANKS Cindy, she doesn't have a blog or I would link. My favorites are the crocheted clutch and the ligh up crochet hook. Kinda has a Star Wars light saber feel to it. It looks so cool in the dark.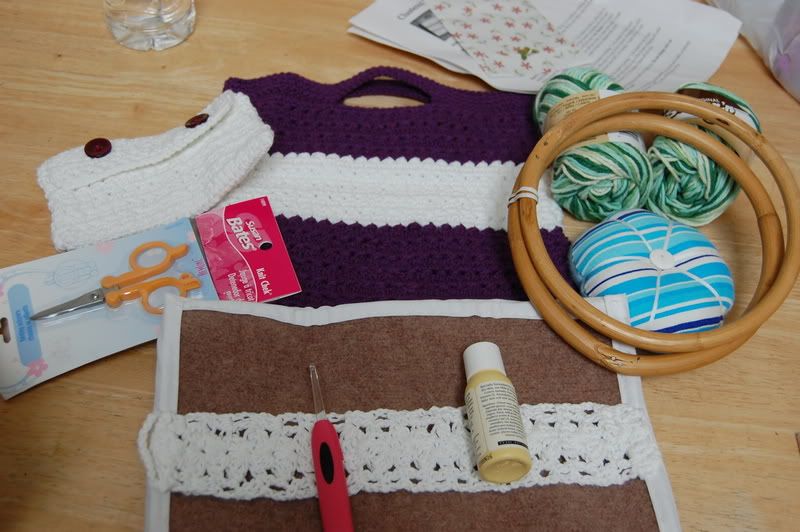 This one is from the stitch marker swap. Thank you Sara. My projects have better jewlery then I do.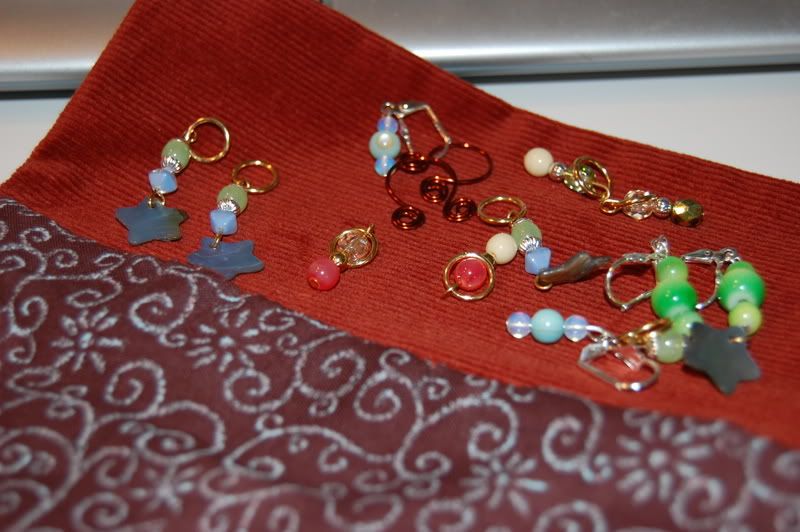 No update on the Hexagons. They haven't been worked on.
There is sewing going on over here, so I'll actually be posting some sewing. HEY that's an idea, sewing on the sewing blog.
I've been looking at a couple of McCalls that I really like one is the jacket
5478
and the other is this dress
5466
but I haven't decided if the big collar on the jacket will fit on me or if the dress will fit right. So I'm waiting to see other peoples reviews on these.
Now to update ravelry with my latest yarn collection