bags bags and more bags
I love bags. When I used to work in a fabric store I used to make myself a new bag every of couple weeks. Several of them I would give away to friends. Some of them I have kept.
Then I stopped sewing as much and started knitting more. Knitting bags isn't as fast as sewing them. You can easily design and sew a bag in a day or two but to design and knit a bag or even just knit a bag takes awhile.
Lately though, I have been wanting to make a few new bags so, here are some of the ones I have been looking at.
The stained glass bag. It uses Noro yarn. I love Noro and have the perfect yarn for this. I even have some black Manos for the handle.
This is a new pattern that will be in the new Mason Dixon book. I have the book pre ordered on Amazon but I'm a little worried that this is the only good pattern. It uses Manos. I love manos yarn.
This bag is from the new Debbie Bliss magazine and will probably never be made by me. It's small yarn on small needles but it's pretty. It has a zipper as the handle. That doesn't sound comfortable but it's interesting.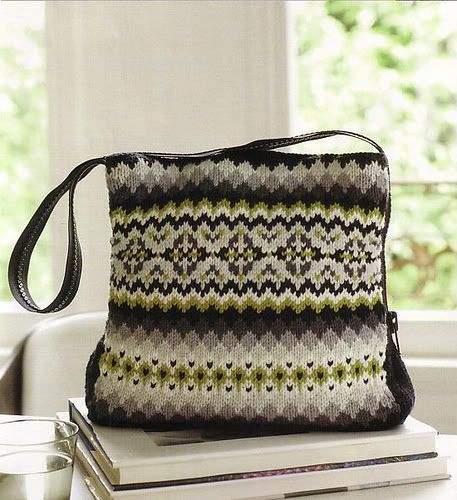 I love this one. It is also from the new Debbie Bliss magazine and uses her new yarn. Como is a chunky weight wool that is super soft. The bag is made on size 15 needles. I love size 15 needles.
This one I have been wanting to make since the book came out in 2005. It's the counterpane bag from Handknit holidays. This version is done in Noro.
This is a pattern from Japan. I love the look of this bag. I think it's super cute and I feel like it would be easy enough to figure out a pattern for it.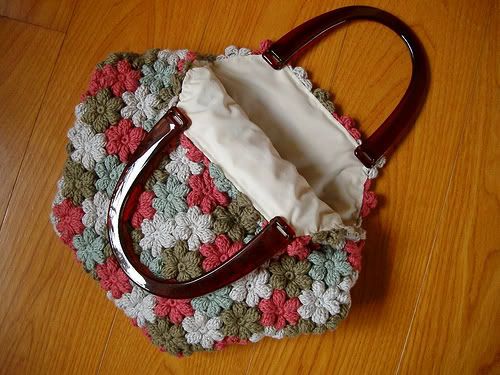 This one I believe is called the woven tote. It's in the bag style book. This version was done by a Ravelry member and I love how the colors really let the pattern come out. The one in the book isn't as interesting.