project regrouping
I t got this new yarn last week. It's by the Misti alpacca people but it's cotton. It's super ,super soft. It reminds me of the Blue sky alpacca dyed cotton that I love so much. The color is way out of my usuall color picks but I thought it might be fun for summer.
Yarn details: 83% Pima cotton/ 17% silk ,made in Peru by Misti international
191 yards Guage is 4 st on size 8
I am going to try and use it for the Roundabout leaf tank in the knitting nature book by Norah Gaughan. I won't be starting it anytime soon though because you may remember in a previous post I started the Basalt tank from the same book
I started it with Yarn Palace VIVACE yarn. It's a 100% bamboo
. I had a terrible time getting gauge and had to go up to a 7 which is too big for this yarn. I did complete one full hexagon before ddeciding that the garment wouldn't have any structure and would just hang loosely on my body. I love the yarn, love the pattern but they were not a good match.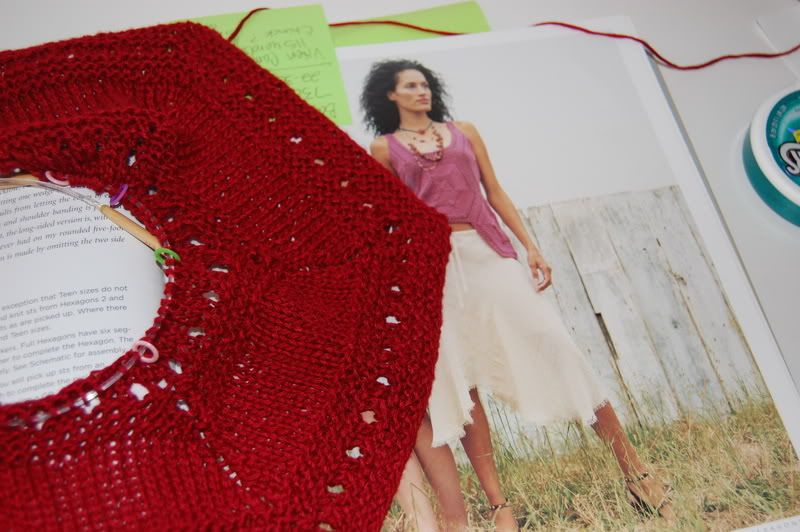 So, while having lunch with a friend I found myself at the scarlet skein in Atascadero. This yarn is a Bamboo cotton 50/50 blend. Could it be... a perfect blend of soft flowy bamboo with cotton to give it some body but still keep it cool for summer. and....it's the right gauge.
I was able to get perfect gauge on the first try. I went ahead and started the tank over and so far I am very happy with the way it feels. Only problem is I may have made a mathatical error when buying this. I might need another skien. I'll have to try and get into the store again nextweek and grab one.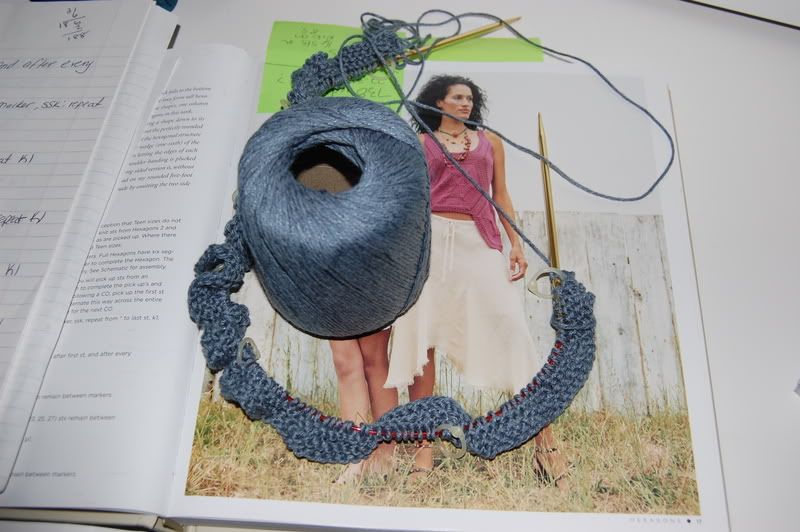 So.. what to do with the Bamboo yarn. Turns out it is perfect for the Vixen Camisol from sensual knits. The gauge is perfect, the feel of the yarn is perfect. I think this is a great match. Besides look at the color. The only problem is that this pattern calls for a bulky weight yarn to finish the top portion. I'll have to look for something that matches that gives my the right gauge. That's done last though so maybe I can get that far in then come up with something cleaver. Again I worry about having enough yardage but I feel like I should have enough. I could probably make it shorter.