Finished stuff SWAP update
I finished my striped jacket using Kwik sew 2895. I also finished skirt #3 for SWAP Vogue 7859 and the handbag from simplicity ....can't remmember I'll have to go look. The bag isn't really done it needs a buckle to finish the handle and I haven't found one. So, I may do something else to finish it off.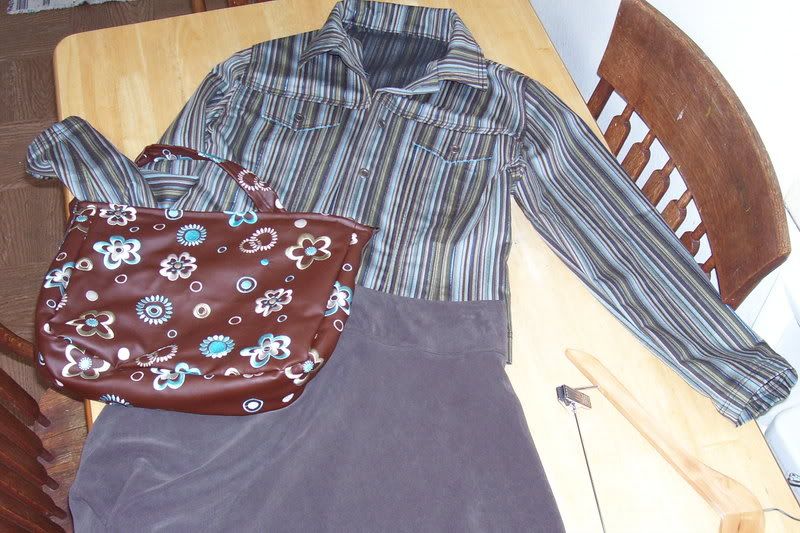 I have the bodice done on the simplicity top but I'm starting to worry a little about the amount of gathers and pleats going on in the middle. The tie probably helps to hide some of that.
As for a SWAP update I have finished
1. Tan skirt (mcCalls 3830
2. Brown button skirt ( Vogue #)
3. Rayon brown skirt (V 7859)
4. Striped Jacket ( kwik sew 2895)
need to finish:
5. Another bottom ( pants pattern ?)
6. Wrap top ( vogue 8151) The muslin came outgreat
7. knit tee (Jalie 2566)
8. Button down teal top (Burda 2561)
9. Jalie cross over top
10. white simplicty 3867 (maybe) not sure about my Simplicity 4112
11. Reversible tank (kwik sew)
threw out the plaid skirt to use the striped jacket.
Might use a flower print that I threw out earlier for the plaid to make a tee .
extra pieces:
vest, handbag, hat. simplicty 4076,wrap top, brown velvetten jacket from RTW knoick off contest. And the plaid skirt.