holiday knitting anyone?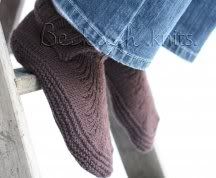 I thought I would maybe think about some possible gift ideas. The man of the house has a birthday the beg of Nov, and Gin, the middle of Nov. I think I will knit the habitat hat in a nice tweed for the man and the elysian fingerless gloves in a Alpacca for Gin. Red ones!! Then I found this great pattern for sock/shoes that I need for me. Because I want them. Maybe in Red!
They are called Adult moc a soc's and they were designed by Bekah.knits. If your on Ravelry you can go get the pattern.