Finished pants
So even though the pants fit me almost perfectly ( tiny bit too big in the waist) I can't get them to look right on the dressform. I'll have to keep working on her. So instead you get a down on the floor shot. This is my very first pair of pants, except for Pj's they don't count. I picked a super easy pattern, Simplicity 4500. It's one of thoes Threads wardrobe patterns. I used a linen fabric that has something else in it. ( not sure what) It doesn't wrinkle as badly as 100% linen would. It washed well.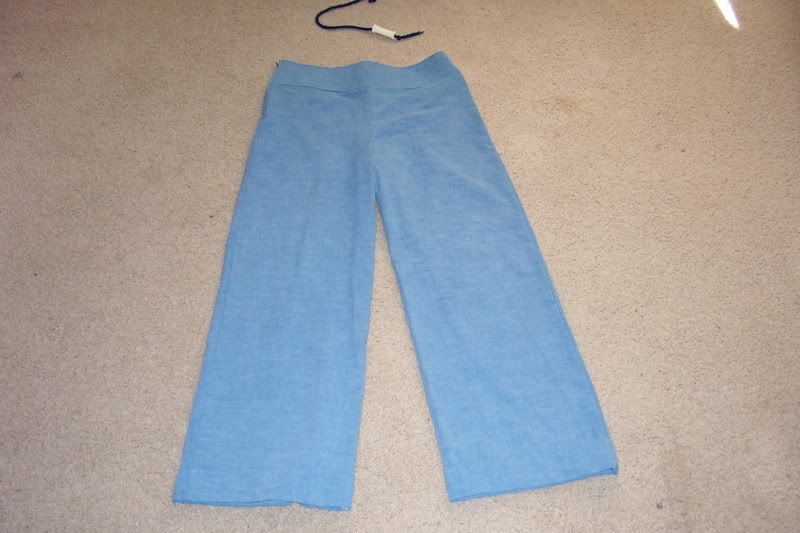 Here ia a picture of the cuffs.
I probably won't make them again. I'm not loving how wide the legs are. They feel like Pajama pants when you wear them. If I did make them again I would narrow the leg and make the waist band shorter.
This is my last Bottom for SWAP.
Total so far
1. Pants : turq linen( simplicity 4500)
2. Skirt: tan cord (McCalls 3830)
3. Skirt: brown rayon ( Vogue )
4. Skirt: Dk Brown with buttons ( modified Vogue)
5. Jacket: striped twill ( kwik sew 2895)
6. Top: teal suede ( burda 2561)

Extras wool skirt (McCAlls 3830), Teal cord jacket ( Kwik sew 2895)
Back to sewing.