my sewing space, mess and all
G got sick at school this morning so I had to go pick her up. I'm trying to be quiet so she can rest. That means no sewing today. So I have plenty of time to take pictures. So, as promised
her is my sewing space. It's not a room, its a U shaped space in the family room. I used to have a much smaller chair but it died after years and years or work. I got this one around Christmas time and it's very comfy. It's also so big that I can just turn around to get from the sewing machine to the serger.
Here is a picture from the front view. I pile all my WIP on the table with the serger.
The topic of organizing notions has come up a few times lately. Here is my method. It mostly works. I have one of the drawer on wheels things from an office store. Mine has 6 drawers. Originally I had everything just stuffed in the drawers but that didn't work. So a few years ago I started putting drawer dividers or small plastic containers with lids in the drawers. It seems to help. This is the button, hardware, stuff drawer.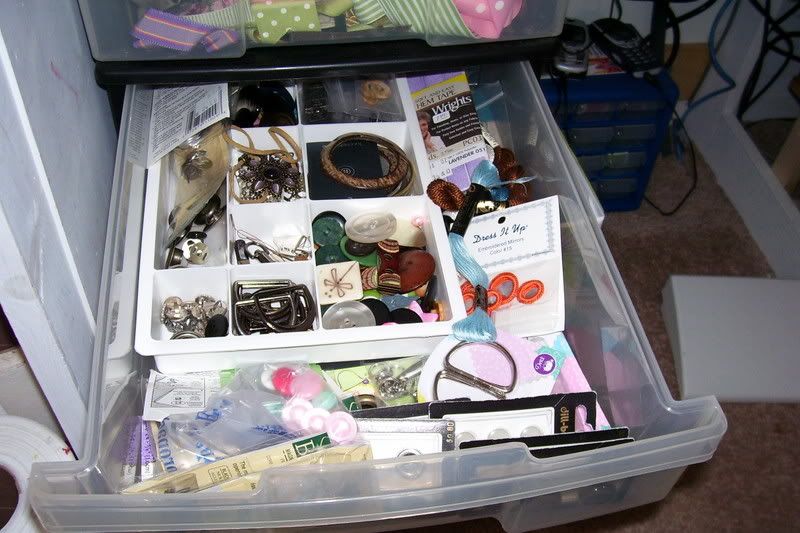 Here is the whole drawer stack. It sits under my desk, near the sewing machine. There are not usually so many wires hanging down there but I am charging 2 cell phones and the battery recharger is also plugged in.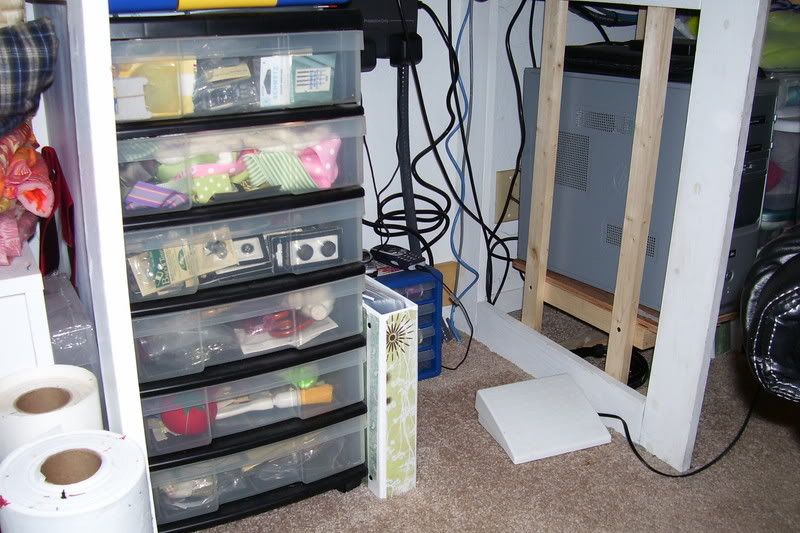 Thenon my desk next to the sewing machine I have this tote. It has a ton of pockets. The idea is that all the things I need for the current projects or things I use all the time should be in here. I try to put the next pattern, buttons and zippers in it. It's suppose to keep my from losing things.
The container sitting under it is a floss organizer I use it to hold the presser feet for my machines. I have each slot labeled with the foot and the machine. The viking actually has enough storage space that I keep all the feet with that machine but the PFAFF doesn't have any extra space at all. I also keep sewing macine needles in here as well.