Thanks mom for teaching me to sew
I had a job interview today and afterwards I was feeling less then confidant so I decided to have some fun and go look at what's in the stores. I also wanted to try on some of the new styles that I had bought patterns for. I have t
Vogue 2947
but I'm not sure it's me. So I wanted to find something in that style to try on. I was able to find two tops that were very similar to view A. They actually look pretty cute on. Both of the ones I tried on were sheer with a tank or cami underneath so you still see the waistline without it looking like a maternity top. I also tried on a couple of tops similar to
simplicity 4072
or
Newlook 6677
both were in fun knit type fabrics. I liked these too, except that one was way too low. I own new look 6677 so I may try it on some buttermilkI bought from EOS.
The other thing I saw alot of in the stores, were cropped jackets. I've never been a big fan of the cropped jacket but maybe they are growing on me.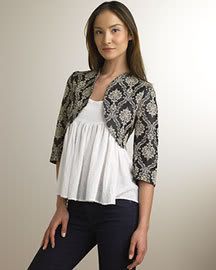 This jacket from
Neiman marcus
is $352 . It's a cotton poly Brocade. How about the top for $242. Well when I first saw this I thought of the new Sew Stylish magazine and pattern 3867. The jacket looks practically identical to the one in the mag. So you could buy the pattern even at full price $15.95 (although I usually get them 1/2 price) then you will need 1 1/8 yards of fabric. Let's get wild and spend $20 on th efabric. you'll need a little piece of interfacing and some thread so hmmm $3. (Although chances are good you have interfacing scraps and maybe even the thread). So let's round up and say it's $40 to make it. Know doubt it could be done in way less. Hmm $352 or $40. And you get to say I made it. And the top...You could probably use that same pattern.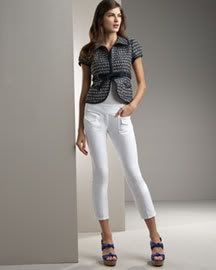 This jacket is cute it's also from
Nieman marcus .
It' $ 370. It reminds me a little of anoter new Vogue pattern. The collar is different and the sleeves are too. You might be able to find a better match
Vogue 2942.

Here is one a little less pricey. I actually tried this one on at Gottschalks. It's a
Liz claiborne
$139. poly rayon spandex. It has the swing back ? If I were going to wear this I would wear it with something very slim underneath. I think it makes you look wide.
McCalls 5276
would be a good match for this.
So what's my point? I didn't buy anything and I'm so glad I know how to sew because I can have all 3 or 4 of these garments and not spend.... are you ready..$1103.00
So thanks mom, for teaching me to sew, when I was little.
(Day 6, I haven't bought any new patterns.)