A hat, A bathtub and new yarn
A hat A bathtub, yes a bathtub. If you remmember a few days ago I posted a link I found on Stacy sews site for this really cute knitted bathtub called "
tubby
". I thought it was so cool and unusual I had to get the pattern. So, here it is in it's early stages. I'm using some dishcloth cotton
that I had in my stash. If it turns out just so amazingly cool I may make another in a wool. I have lost a Dp in size 6 so I am working it on a circular untill I get another set of DP's.
And yes another hat, if your counting that's three in a week. This is not a pattern I just knit it in rib untill it seemed big enough and then decreased. The yarn is Nashua wooly stripes tweed. It's a really nice yarn a close alternative to this would be the sws yarn at Michaels.
Close up of the yarn
I also cast on for 28 Thirty its another Zephyr pattern, never mind that I promised myself I would finish the tree jacket this much ( also a Zephyr pattern). This yarn was from the clapotis that I frogged.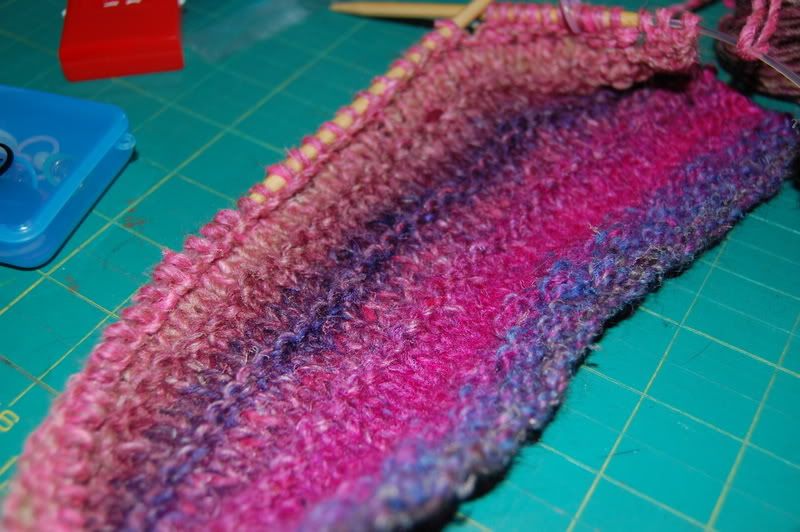 Iwas really good at the knit group today I didn't buy anything then on my way home I had to run into Michaels, I was looking for DP's in a size 6. They didn't have the needles but they did have the Bernat Soy yarn on close out for $2 a skien. That's crazy cheap so Happy Valentines day to me!! I bought all the pink they had left and 8 in sea mist. I am now off to ravelry to search for pattern ideas for this yarn. OHHH wait I can't start anything new. Except for maybe that other hat pattern I found that I love, It's called the Hawkeye hat.