The name is too long
The weather has been really nice lately, very warm and spring like. That figures, because I am currently knitting this big chunky warm sweater.
It's called the Vine lace top down cardigan. The name is too long and I have to look it up everytime I want to say it because I can never remmeber it so I'm renaming it, lets call it the Malibrigo sweater untill I can come up with a better name.
Here is a picture of the pattern. I got it from the
sweaterbabe
website. She also has a
blog
.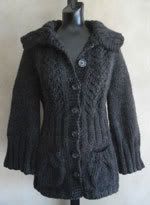 In case you have forgotten I am using this yarn. It's Malibrigo Chunky in a color called sealing wax. This yarn is wonderful. If you haven't had the chance to use it yet but have the opportunity to get some you should. It's my current favorite yarn. It's even softer then the Rio that I love so much.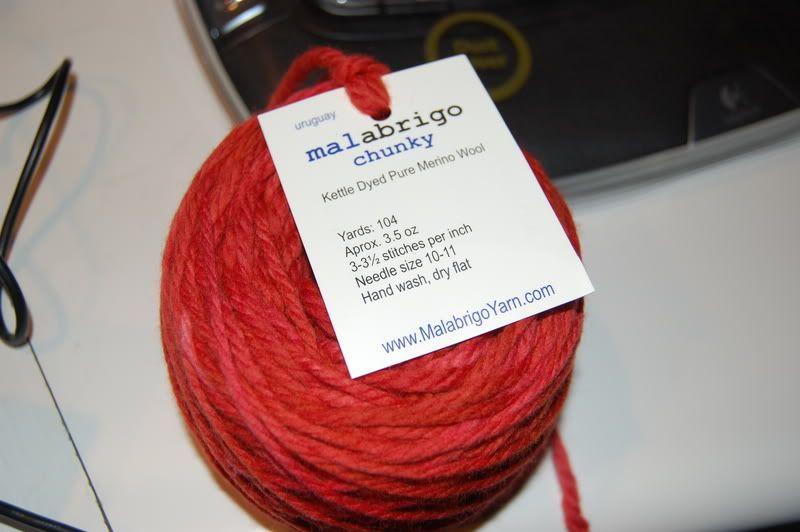 I started the sweater on wed, but only did 6 rows. I wasn't sure about the buttonholes because the first button hole is missing from the pattern, I did finally see that if you read further down the 2nd buttonhole is listed so you can just follow thoes directions. I know I know you'r supposed to read all instructions before starting a new project. WHTAEVER, I can't do that. It's just blah blah blah untill I actuall have needles and yarn in hand.
Anyway, I didn't really do much with it on thursday because I took Shalom ( to restart) with me to knit group.So what I have done so far was mostly done on friday and saturday evening. I stopped on row ....75 of the sleeves becaes I really need to be able to try them on and adjust for my long arms. The pattern has you finishing the sleeves before you continue on with the body, that's actuallu pretty clever because I don't like to knit the sleeves but I love to work on the body. Like I said though I'll have to wait and finish them when I can be sure of how long they need to be.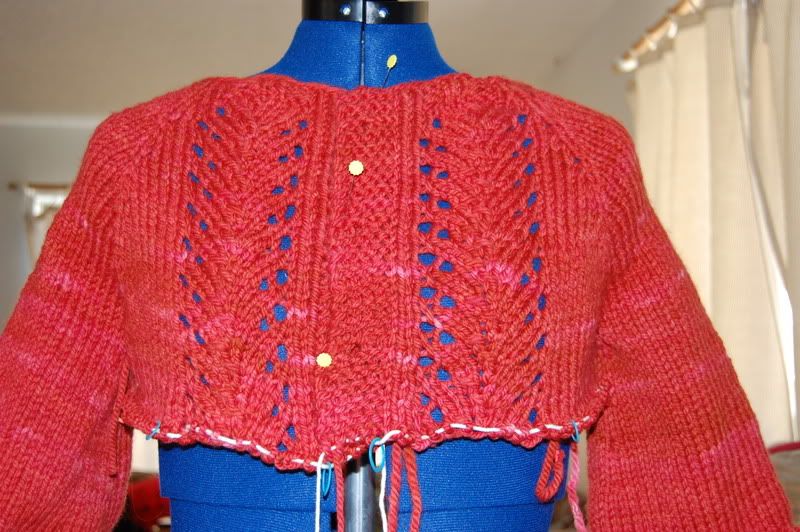 It's a pretty fast knit. The yellow dots in the picture are pins holding the sweater closed so you can see the lace pattern. My gauge was slighty off on this pattern but I felt like because the smallest size has a 40 inch finished bust and I don't I could still keep going. It won't have as much ease as the pattern does so mine will be more sweater like where as I think hers may be intended to be more coat like.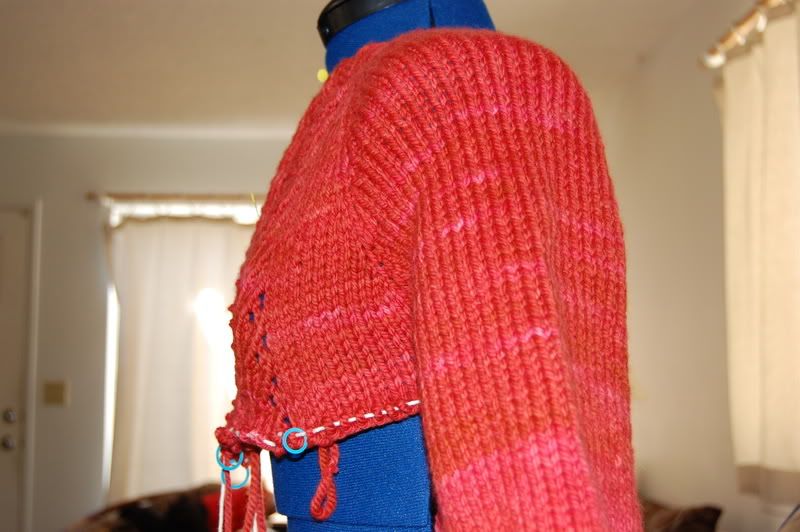 Side shot just because.
This pattern is alos by sweater babe. Alana at nevernotknitting and I were talking about this one. We both think it's really pretty. I'm concerned about the peplum in the back though. There are some really cute ones on ravelry though. It's also done in pieces so that would slow down the process but it's very pretty. I wonder if you could do it in the round and take off the peplum?