fabric pictures mostly
G is sick. She came home from school yesterday looking icky. Then today I had to go pick her up early from school. Unfortuanately she has had so many big projects do this week, it's a bad time to not feel well. The end of the quarter is tommorow so she's just trying to make it through tonight and tommorow then she has friday off. I wish these middle school teachers didn't wait untill the end to pile everything on. What are you suppose to do if you get sick?
I have decided to get rid of the red sherpa jacket. It's so not me. It's too big and the more I look at it the more I don't like it. I know someone who loves it so I think I'll just pass it on to her. I have so many other projects to finish sewing. I don't really want to spend the time trying to alter it. So now onto all the photos I promised. I'll start with the best. My fabric from EOS.
My purchase from Emma One sock. Are you jealous? I just love these. The one on top is a stripe cotton light weight denim in Blues and brown. It matches my SWAP wardrobe so well that I may replace my plaid and use this instead. I love it, I have no idea what I'm going to do with it yet. The one onm the bottom is a totally cool sweater knit. I have never sewn on anything like this but again I love it. It's not even a fabric I would have normally bought but for some reason it called to me and I'm so glad I bought it. It's way better in person. So what should I do with that? I only have a yard and a half. I think.
Here is my leather like fabric from Joanns. I want to make a purse out of it. I don't really want to make the la rue bag again. I'm thinking something more fun. Any suggestions?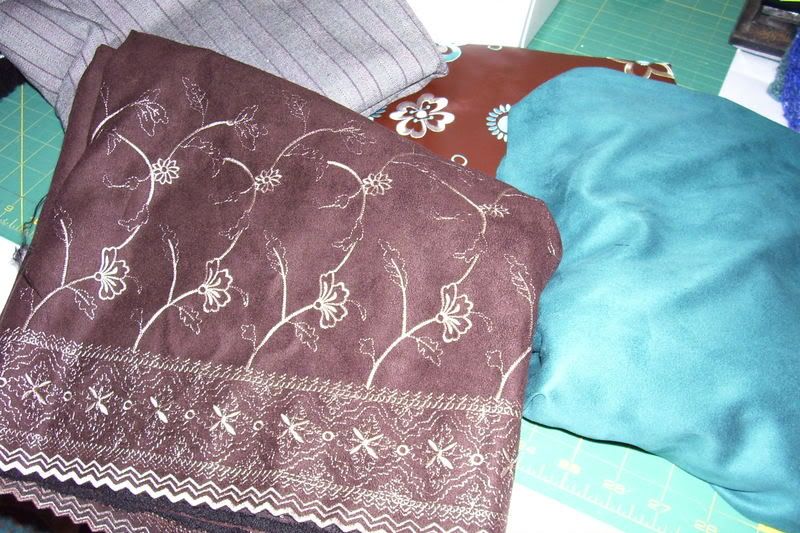 This is my fabric purchase from Joanns last weekend. The embroidered leather stuff on the bottom, a teal poly suede on the right ( I'm thinking button down shirt) the brown poly suede on top has and embroidered edge ( skirt simplicty 4500) the one in the back is the wool. Everything was on sale 70% off.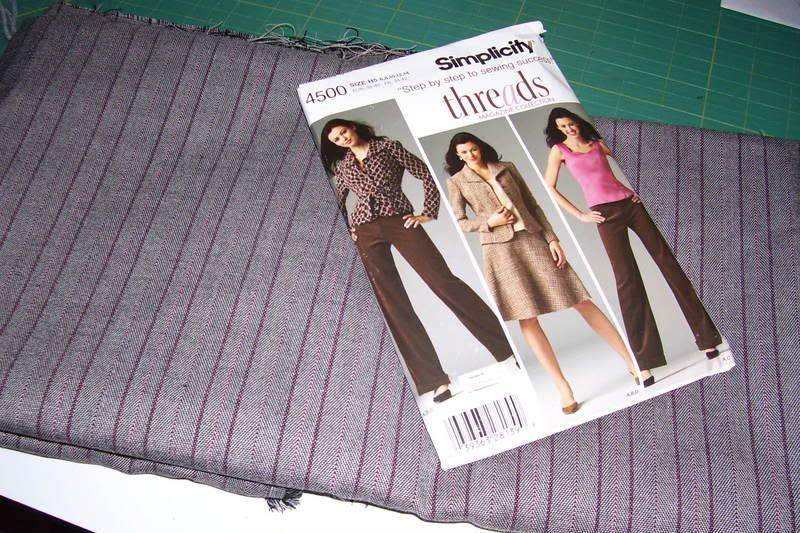 This is a wool blend I bought at Joanns also. It's a really nice piece of fabric. It's hard to see it but there is a tiny stripe to it. I'd like to make these pants.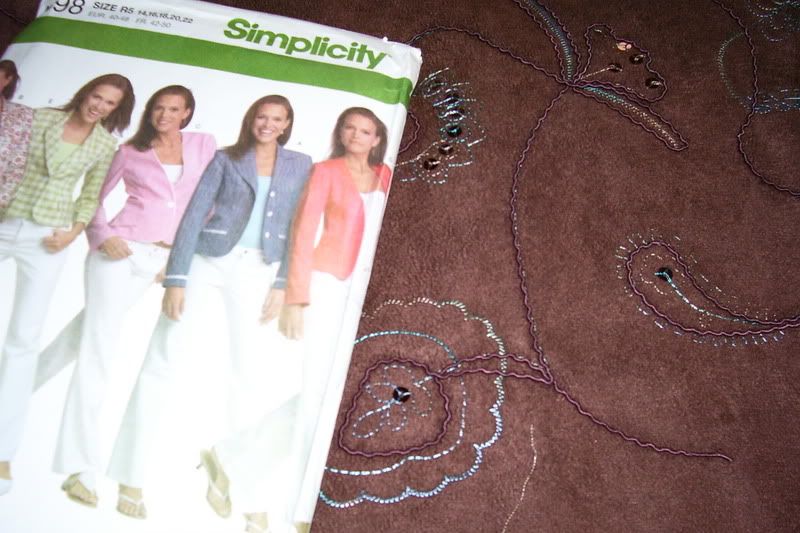 This is the fabric my mom picked out for a jacket. It's really hard to get a good picture of it. It's a poly suede like embroidered brown fabric with a few sequins here and there.