trying new things
A photo of a few of my favorite things. My new bike. My husband got it for me. He is huge into bike riding, he has a really nice road bike You know the Tour De France looking things. I haven't ridden a bike since I was a kid and even then it wasn't my own bike so this is something new for me. I love the idea of another way to exsercise and I really like the idea of having something else to do together, although no way will I be able to keep up with him, hopefully he won't mind slowing down for me. And that's my super fast heavy duty sewing machine on the table. It's still my favorite over the fancy ones I own.
This is the beginning of a swatch for the
fancy ribbing tank
using
allhemp 06.
I have been wanting to try the hemp I bought and today seemed like a good day to start swatching. It's pretty rough stuff so I hope it softens. If this works out I want to make a skirt. I also love the pattern on knitty
Eiffle
.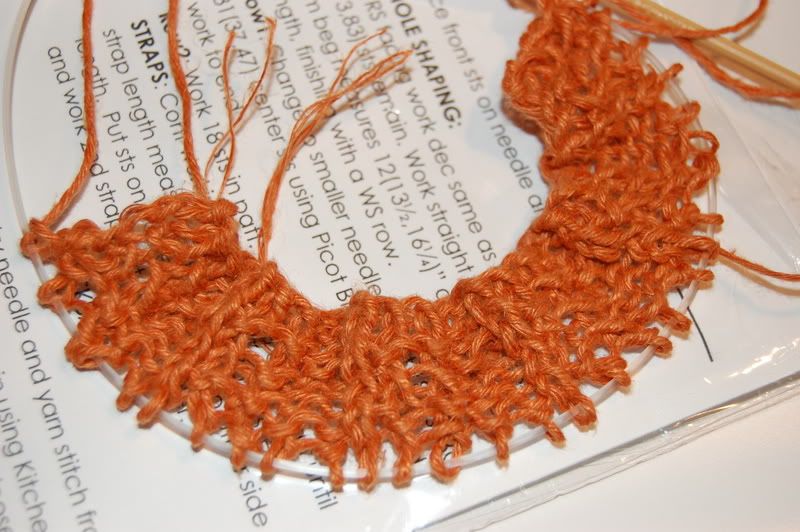 I am totally in love with this yarn though. This is the softest most wonderfull yarn. It's dyed
cotton by blue sky alpaca
this is the Tomato color that I didn't like that came with my earthy colors. I am making the
fitted tank
with it. I plan to knit in the round with stripes. How hard could that be right. So far my gauge looks perfect with both the hemp and the cotton.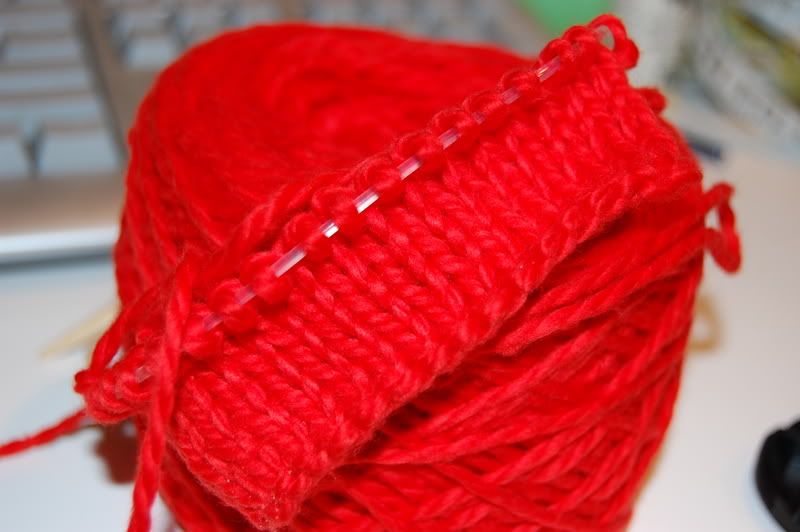 Here is another picture of the swatch ,this color is accurate too. What else can I knit with this? OHHHH a blanket would be heavenly!!
Here is my puffed sleeve cardigan. It still amazes me that you can take a ball of yarn and two sticks and turn them into this. It has a collar, sholders. Isn't that the most amazing thing.
And if you look side ways ( I can't seem to rotate it) you see we had some sewing today It's not done but I could'nt wait to post. I need to find a snap for the tab and then I can sew in the linning. I also cut the pattern out for Amy Butler's gum drop pillows. Each piece is suppose to be laid out on a fold. I'm thinking it would be easier to make the pattern pieces so they are in one piece and then you don't need the fold. I should go ask Stacy because she already made hers.