lots of pictures
I think I have picked a project from my new book, boutiqe knits. I'm still not sure which to start first because I have the yarn in my stash for both of these. The first one uses two skiens of manos and has this totally cool handle. It's a horse tackle "thingy" and these really cool "chigaco screws". Thoes items might take some looking for so I will probably go with this other bag first.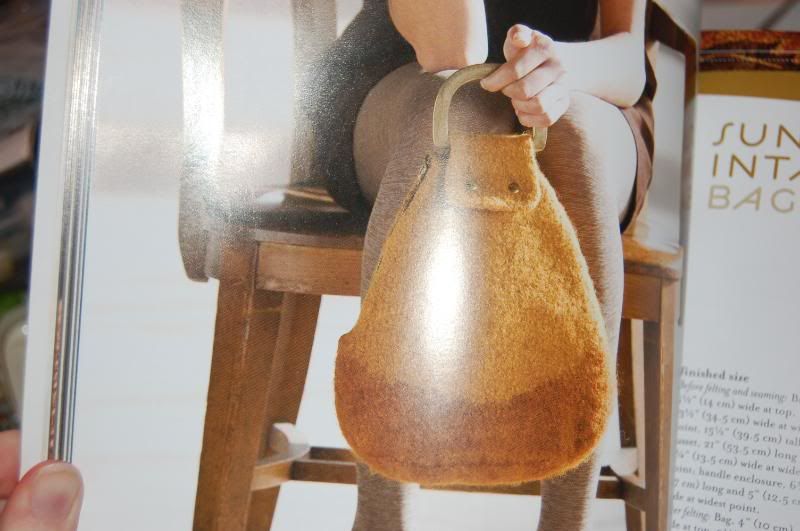 This one, I have some cascade that matches some really pretty beads that I have. I think this will be fun to work on.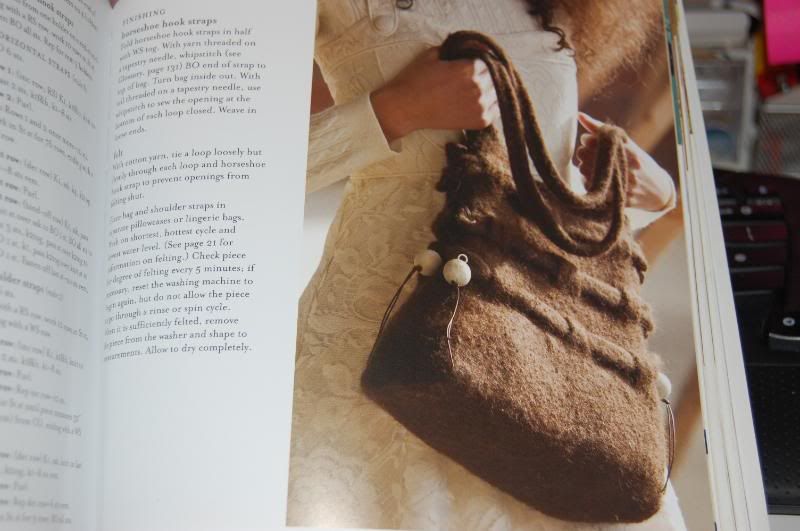 I am also making a hat for my husbands birthday. This is the habitat hat from brooklyn tweed. I love the yarn, it's kathmandu aran.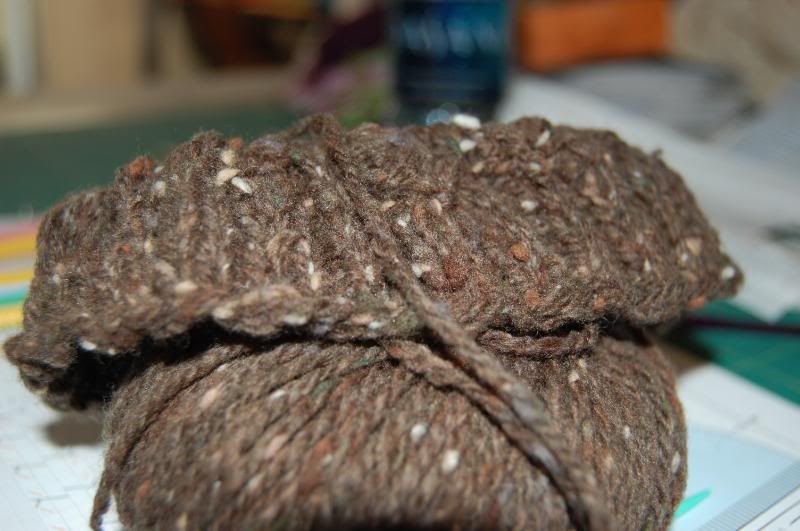 So what about the giant felted shoulder bag ? Well, it's no longer giant but it's still VERY large.
Here you get a prefelted picture, and before you ask me if I was drinking when I took the picture, yes I was. I can't seem to get it to rotate and then stay rotated when it's posted?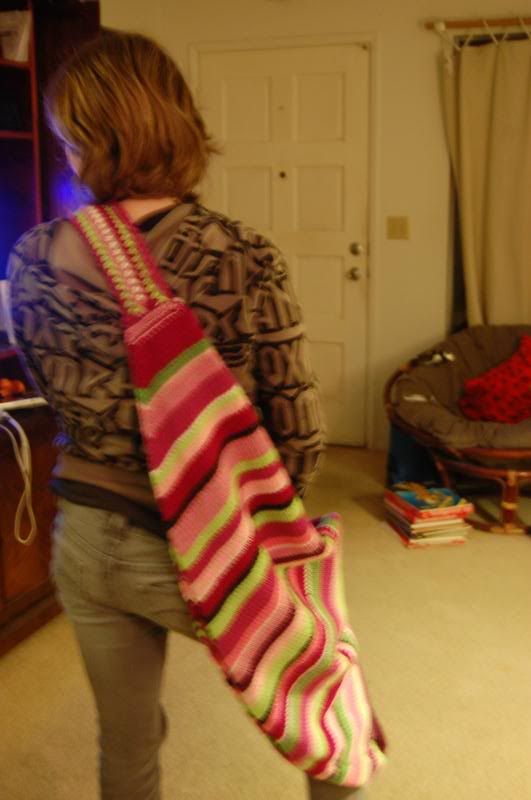 After felting.....5 times...it's still large. I need to trim the threads and insert the zipper. Check out my super cool crocheted strap.
Stefanie Japels new book is out, it's called glam knits. If you were a fan of her last book, fitted knits you will remmeber that in the bag of the book is a picture of Stefanie wearing the coolest sweater. That sweater is in this new book. I love that sweater but I was still not sure if I wanted this new book. I made about 1/3 of the projects in the last book but still I wasn't sure about this book. Why? Because the few pictures that have been posted from this book were not anything that I wanted to wear. I don't like the cover, at all. I don't like the color, the way she's posed so you can't see the garment and the way the garment appears to look. So I didn't preorder the book from Amazon like I do with so many knitting books. I did get a chance to look through this book today and was surprised to see I do like several of the projects. I do not however like the layout or the photography in this book. I might be picky or even cranky today but I fell like it's really hard to see the garments.
That said I do have some fabvorite projects .
This one, a shrug in a worsted weight yarn. I like the back. So often when you see a shrug pattern it either has an odd sag thing happening or it's super short. This has a nice back, and the texture is really pretty. Can you see this knit up in a lovely alpacca worsted, yea I know alpacca stretches but ohhhh wouldn't it be lovely before it stretches out.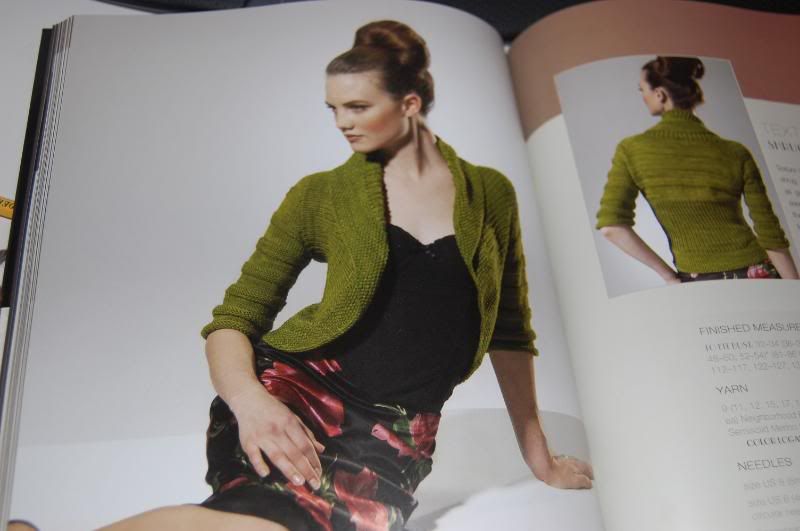 This one is interesting to me. I like the sleeves and the ribbing at the waist. I would love to see her standing straight up and I want to see the back.
This one I would make, not just because it happens to call for my favorite yarn in the whole world but because I think it looks like a nice cozy but fitted hoodie. Again though ,I can't see where it really hits her because she is all tilted and twisted. I like the color of this one as well.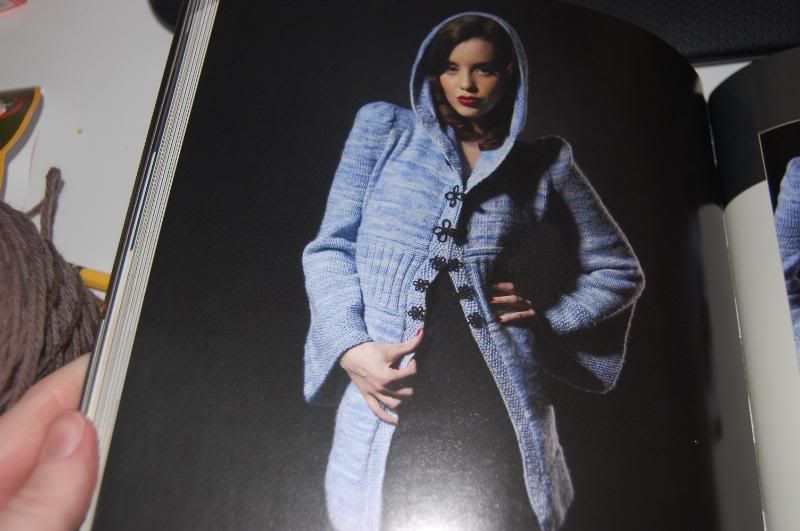 This is the Stefanie sweater, from her first book. I love this sweater. I think the collar is funky and the style is different. I love the buttons on the sleeves. The pattern calls for cascade tweed. I'll probably use the taupe/brown cascade I have in my stash.
I won't be started it anytime soon but it is in my que.
I was planning to start Rambling rose from Ik winter 06 but the pattern only comes in size way too small and size enormous. I was trying to cheat with gauge but It's causing lots of stress. So that may not happen.
The fantastic bag on size 2 needles is moving along. I'm only doing a row or two at a time but it's decreasing on every row so I should be able to pick up the pace.
That's all for now, Happy Halloween, Don't eat too much candy.